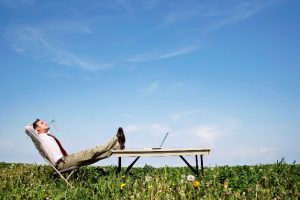 What are Managed Services?  It's really an industry term that wraps together the role of IT Consultant, Chief Technology Officer, Help Desk, Cyber Security and various other IT Services into a single umbrella, typically billed at a flat fee every month.  IT Companies love to come up with new terms, and that's where the term Managed Services came from.
We like to define it as Flat Rate, All Inclusive, No Surprise bills, managed IT services.  You are a successful business owner and you just need for your technology to work, right?  Additionally, you have worries like Cyber Security and disaster recovery to worry about now.  What happens if your systems go down?  How long can you run your business without them?  What about how you work, have you ever thought to yourself, "There has got to be a better way to do this!"  That's where we step in.  Bazar Solutions is there to step in and be your enterprise level IT department on a small business budget.  You see, we can spread our costs out over multiple customers. So while you can't afford a single full time staff, you could hire our entire team of IT pros for less than a single employee would cost you.  In Addition, we spend all of our time "Nerding it up" and looking for the best technologies.  We keep you up to date and safe from cyber criminals, while also looking for ways to help your business run better!
When you sign up with our Flat Rate, All-Inclusive "Complete Care" services, here are some of the substantial benefits:
Tailored Packages – We know that every businesses' needs are completely different from the next. We offer 100% custom packages for any business size or budget.
Predictable costs 24/7 – Bazar Solutions doesn't charge you more when your network is down or a server fails. When we say flat-rate, we mean flat-rate. No unexpected fees or add-ons.
All Inclusive – Cyber Security, Cloud Hosted Email, Backup and Disaster Recovery, Help Desk services are all included. We create a package that gives you peace of mind and the IT services you need for your budget.
Ramped up productivity – Never stress again about network failures. Our managed services include round-the-clock monitoring of your computers and network to help prevent problems before they happen.
We are always available – Part of what makes our managed services so exceptional is that we are always available, regardless of time or holiday.
Virtual CIO Services – We act as your own Virtual CIO, looking for technologies that could help your business save money and increase productivity. Are you thinking about switching software vendors?  We would love to sit in on any of those meetings to make sure all the technical requirements are met and discussed before you make a huge purchase.
Don't just look for an IT Consultant to show up and ask for money, look for a true IT Partner that will help you streamline and secure your business technology and keep you one step ahead of your competition!  Give us a call today!