The search bar at the top is hiding more than just search functionality, it has some great 'shortcut' app and command options that will save you a ton of time. A great shortcut key to get to the bar is ALT+E
You can see what actions are available by simply typing / in the box and it will show you all the actions – you can also check out a list here (https://support.microsoft.com/en-ie/office/use-commands-in-teams-88f61508-284d-417f-a53d-9e082164050b?ui=en-us&rs=en-ie&ad=ie)

Another cool feature is the 'Apps' in Teams. If you type @ you can see a list of apps, like @praise where you can praise a team member to doing a great job or @weather to check the local weather without ever leaving teams. You can see the full list of apps available using the apps screen – look at the bottom left on Teams: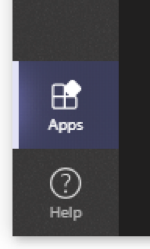 There are TONS of apps you can use within teams or connect to Teams. A couple that we use a lot are:
Sharepoint – get access to your company data right in Teams
Forms – Setup quizzes / polls or other forms in teams for quick feedback
YouTube – using @Youtube you can search for how-to and other great videos straight from Teams
We recommend you check out the apps, many of the programs you use right now will integrate into Teams making it even easier for you to access them without flipping between a bunch of windows!
So back to the Command Bar, the shortcuts in here can be extremely useful, and let's face it, they are only going to grow and get more useful as time goes on. Here are just a few of my favorites:
/whatsnew– This has to be the most useful one given the speed that MS release changes these days. This takes you to the Release notes tab in the T-Bot channel. Worth a regular check.
@Wikipedia– Allows you to do a Wikipedia search. Returns a summary that you can click on to go to the full Wikipedia page.
/goto– If you have a lot of teams or channels or spend a lot of time, as I do, in the Chat part of teams then this is good way to hop straight to your destination.
/files– Shows your recent files and allows you to search and go to the file you want rather than having to click around your teams.
/keys– This is a shortcut to show shortcuts. Nice quick reference for the MS Teams Keyboard Shortcuts
/call –This allows you to type the first few letters of the person you want to call and select them to call. In big organizations this could be very time saving
/help – Pretty self-explanatory and simple. A really, good quick way to ask a question of the Teams help via the T-Bot
/saved– This takes you straight to your list of saved messages.
These are just a couple of the quick tips around Apps and the Command bar. The best way to learn what it's capable of is to play with it!