Struggling to organize tasks in your workplace? Are your teams having communication or collaboration problems? Then it's time to give Microsoft Planner a try.
This handy Microsoft 365 app is perfect for an agile workflow. It lets your teams create plans, organize their work, assign tasks, collaborate, set deadlines, and upload or share files—all within a single app.  It's similar to Trello, and give  you an easy 'card like' glance at any of your projects.  Anyone with a paid subscription to M365 (Formerly O365) has access to this handy app.
Need to track progress? It's right there on your dashboard, with regular updates sent through email notifications. Each plan in Planner also automatically creates a new Microsoft 365 group to help you stay organized.
As you get into Planner, you can look at integrating it with Microsoft FLOW and doing automation for many of your tasks.  These tools, used together, are incredibly powerful, allowing you and your business to get so much more done through better planner and automation.  If you need help with the automation, we would love to help you.  One of our favorite things is to help businesses improve process and workflow through automation and better IT Services and technology.
So how do you get started with Microsoft Planner?
First, we need to create a plan.
From the Microsoft 365 menu (Portal.office.com), select the Planner app icon: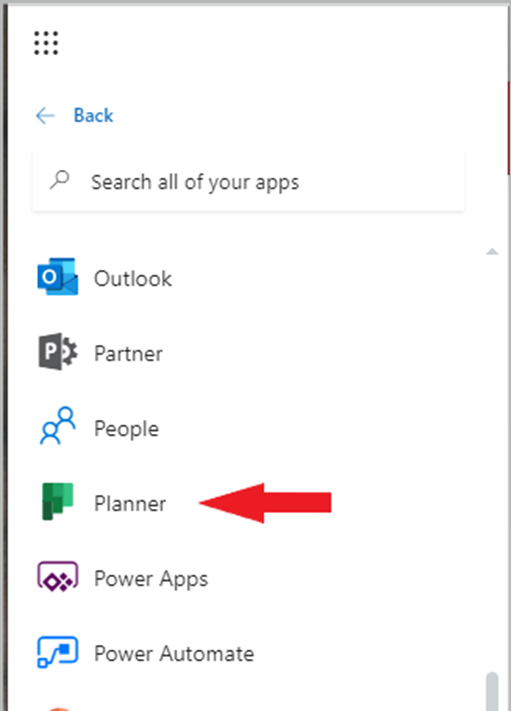 The New Plan dialog appears: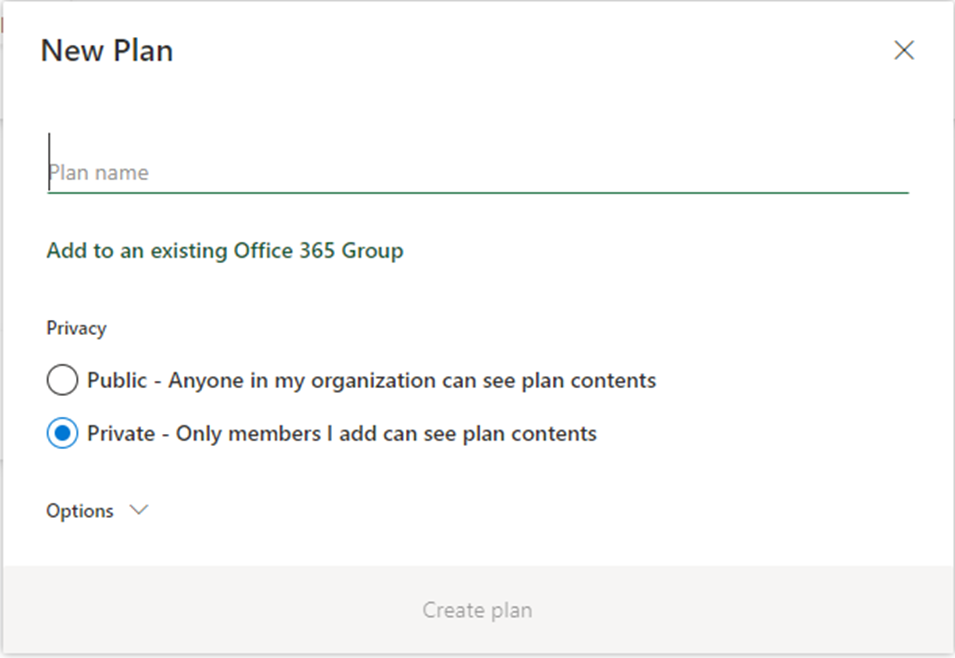 Here, you can:
Set the plan to be either public or private.
Enter a description (optional).
Subscribe new members to notification emails for the plan.
Once you're done filling out that info, click the Create Plan button.
At the top of the Planner UI, you'll notice a navigation with three pages: Board, Charts, and Schedule. By default, your main page (Board) will look something like this:

As you can see, the main Planner page is very simple and has a clean layout.
Creating Tasks in Microsoft Planner
Now that you have a plan, you can begin to assign tasks to the team members. Don't worry—it's a lot easier than you think. Planner will guide you through all of the steps.
To get started, click the Add Task button.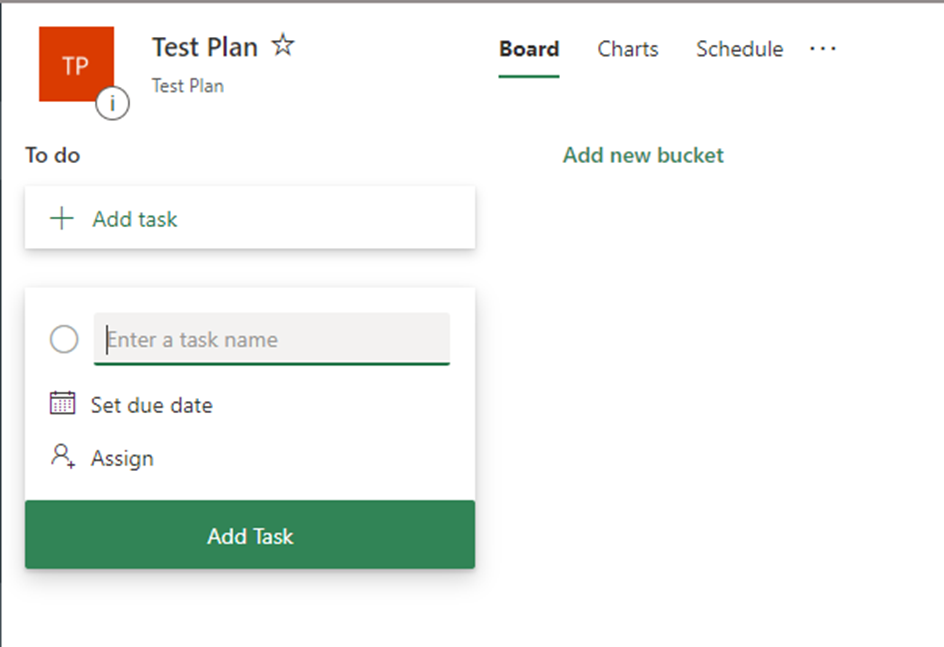 You can:
Assign the new task to a bucket (more on that in a bit).
Enter the status of the task.
Enter a start and due date.
Enter a description of the task.
Choose whether to add an item to a checklist.
Add relevant files as attachments.
Enter comments about the task.
Enter a name for the task, set a due date (if known), and click Assign to assign the task to a team member.
The same section shows the tasks assigned to you. They are grouped according to status, such as Not Started, In Progress, or Completed.
Grouping Tasks into Buckets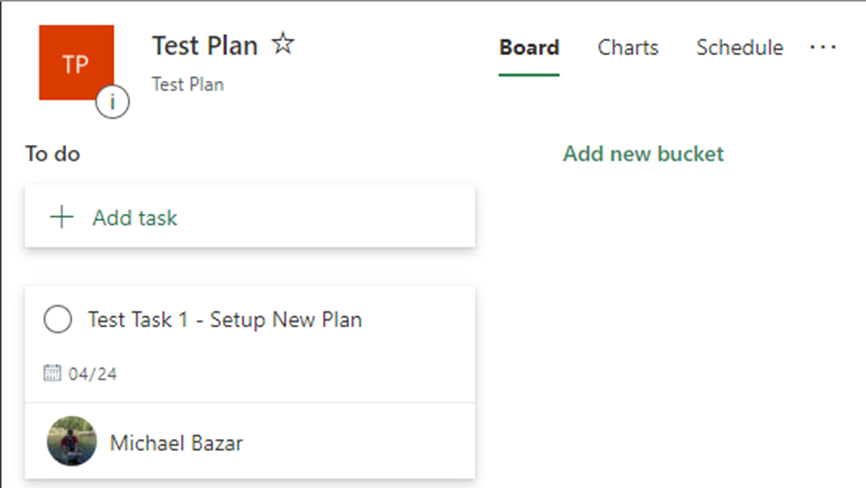 During or after the creation of a task, you can place it in a bucket to break up your work into phases, types of work, departments, or whatever makes the most sense for your team.
To get started, click the Add new bucket link. Then, simply give the bucket a name.
You can then click the plus icon to begin adding additional tasks or drag existing tasks into the correct bucket.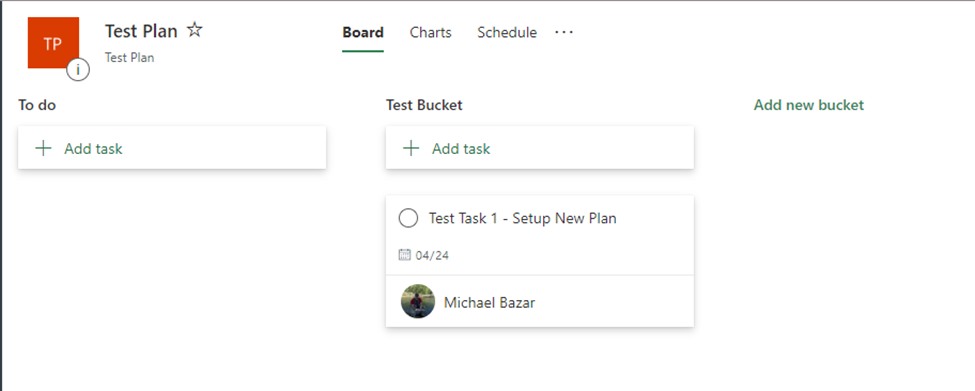 And that's about it for creating tasks in Planner! It's that easy.
Up to this point, we've been working with the Board tab. Let's explore some of the others.
View Charts in Microsoft Planner
First, click on the Charts tab at the top.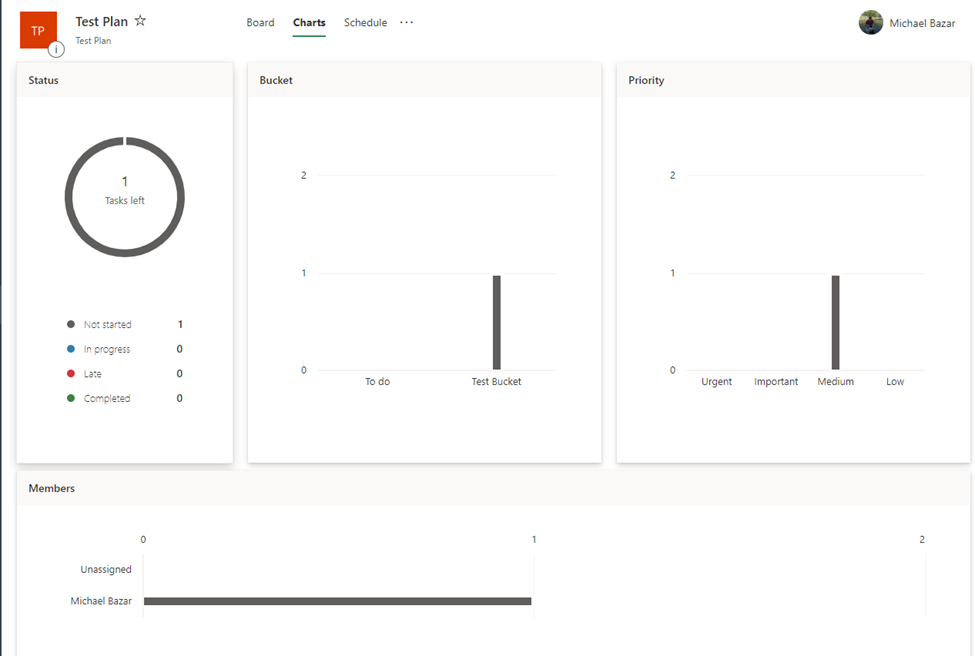 This page gives you a visual overview of your plan and its tasks and buckets. Under the Status group, it shows the status of all tasks in the plan according to the following labels:
Not Started
In progress
Late
Completed
Then, under the Buckets group, you can see how many tasks (and which ones) have been assigned to all your buckets. Under the Tasks group, you can explore individual tasks or create new ones as before. And finally, at the very bottom under the Members group, you can see which team members are assigned to which tasks.
View Schedule in Microsoft Planner
This page lets you quickly see which tasks are due by week or month. It also lets you create a new task as before via the right-hand panel.