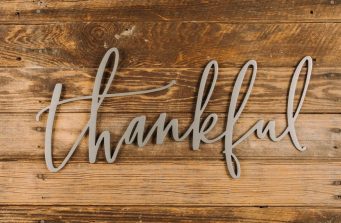 Give Thanks!
I'm going to admit it, sometimes being in IT support is hard – some days it's really, really hard. Our help desk techs spend their days dealing with issues and problems and getting clients back to work. Our IT engineers spend their days working on more difficult problems and working projects to improve the clients IT that we manage. The Cybersecurity analysts are chasing bad guys, combing through logs, looking for evidence of data breaches and other 'bad actors'.
But you know what, we love it, and our team wouldn't have it any other way. Maybe you think we are crazy, but it really is about helping and improving. How can we get you back to work, fix that printer or lost password? What improvements can we make to how you work, what can we streamline and implement to make you more productive tomorrow than you were today. And those bad actors, we love fighting them, looking for a nose to punch and then working to improve cybersecurity without getting in the way of your day to day. We have great clients that are thankful for the IT support that we provide them.
So as we enter the Thanksgiving season we wanted to take a few minutes to say Thanks! We love our customers and all those that we serve. We love being part of the local communities, interacting with local businesses, chambers, BBB and SBDC groups. It's an honor to work with so many great small businesses, and in the last 2 years to help so many weather the storms. We've helped people switch to work from home, secured new and personal computers, changed the way some people work and dug, scrounged, and scraped for new equipment in the middle of a massive chip shortage.
Here are some of the things our team is grateful for this Thanksgiving season:
The guys teach me some cool stuff!
I am so grateful to work with a team that treats customers - and team members - like they matter and deserve quality results.
I would say margarita machine, but.... really I love having coworkers I can joke around with and nobody gets upset.
I am thankful for being able to work with such an amazing team and for the best clients that a company could ask for!
I'm grateful to work in an industry that is exciting and adds value to businesses, by increasing their overall cybersecurity and workplace efficiency.
I'm grateful for every team member and customer that I get to work with. It really is like a family here and it makes me excited to come to work each day.
I'm grateful to be exposed to a wide variety of complex IT technologies and problems to solve, and grateful for a great work culture in a smaller community.
I'm grateful for the extensive knowledge I've gained from working here and being able to have a customer relationship where we know each other rather than being a voice on a phone.
From all of us here at Bazar Solutions, we hope you have a great Thanksgiving! Enjoy the time with family, friends, and coworkers. It's easy these days to look at the negative news and headlines so we are encouraging everyone to look for the opportunity to be grateful. Turn off the news, silence your phone, spend some time with family and reflect on all the blessings you have!