Recently I was at an IT Services conference where Verne Harnish spoke, and he encouraged everyone to read 'Banish Sloppiness' by Paul Akers. So, on my last road trip I did just that (well, I listened on Audible) and when I was done, I loved it so much I listened to another one of his books, '2 second lean'.  You can listen or download them for free on his website - Paul Akers Website
Both of these books focus on finding and removing waste in work and in life. Paul is a student of the Japanese manufacturing giants and how Toyota started the lean movement years ago. There are stories of Toyota managers looking for ways to save TENTHS of a second! Talk about precise!
That got us thinking at our office, how can we improve? What waste do we have? As we started to dig into these questions, we have found items we can automate, items we can just stop doing, and waste in places we wouldn't have thought to look for it! One of the most popular changes has been our Kaizen Foam boards in our tech bench area. We cut out spaces for the tools we use often and now everything has a place and you're never looking for a lost screwdriver. You can get all this stuff from Paul's company – Fast Cap (just search for Kaizen Foam on his website).
Another change we made was that every day our staff all commit to one thing they will get done that day, a daily focus, and one way they are trying to save 2 seconds. This has really helped to dial in our individual focus and it's great to see the ways people are saving time each day. Some days, we struggle to find another way to save time and other days everyone has a great new idea. Recent ideas on time savings include:
Smart Plugs at home to save time turning off lights
Unsubscribing from junk mail to save seconds every day not dealing with emails you don't want
Reorganizing desks, pantries, tools, and garages
Writing up How-To Docs on more items – even the easy stuff we take for granted
Creating quick reports for information that is used often to save time
Writing scripts to automate repetitive tasks
Fixing issues you might have just 'dealt' with, like a door that didn't latch quite right.
It's really starting to change the way our whole team looks at issues and tasks. How can we do it better, easier, simpler. And for those wondering how we communicate the daily 'Focus' and 'Save', we use a Teams channel and everyone posts their Focus and Save each day before 8:15. It's quick, effective, and doesn't waste time!
What about you? What can you do in your life, or your company to improve things? I'd bet there is a lot of room for improvement with your technology. Are you using centralized file shares? Could you move items to the cloud to make it easier to work from anywhere? How about your phone system? Do you have an old phone system that you waste time with everyday? We run into customers all the time that have tools like Microsoft 365, but they aren't utilizing many of the popular features such as Teams, Sharepoint and Planner (Check out our page on tips and tricks here – Microsoft O365 Tips, Tricks and How To's | Bazar Solutions, Inc.)
If you aren't sure where to get started, give us a call. We would love to look at your technology and workflow and see what IT solutions we could bring to the table. A more efficient workplace, is a more productive and profitable one!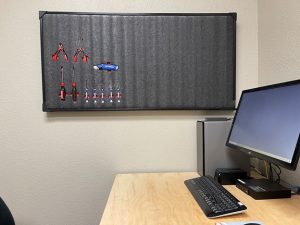 Our Foam tool board with room to add in more tools and adapters as needed